by Scott
On April 16th, 2010 Scott Phillips proposed to Tina Messinger. She said yes. The event occurred while we were on vacation in Port Aransas. We were walking along the beach with our two puppies, Mia and Maisy. On the way back to the car walking over the wooden walkway across the sand dunes, with the sun set in the background, I kneeled on one knee and popped the question. Even though she had a good idea it was coming, Tina had tears in here eyes. As we hurriedly took some pictures before the sun completely set.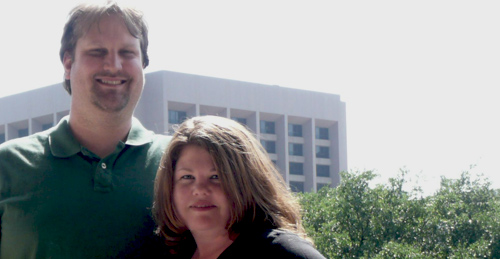 Tina and I met while working for the library at Texas A&M University. Tina is a designer helping make the library look good; I am a software developer working on digital library projects. We went on several Geocaching expeditions around the local area. Geocaching is a geeky treasure hunting activity where you explore your local neighborhood and other places by simply finding caches that other people have left. Not many people can say visiting Aunt Jemima's (Yes, the syrup) gravestone brought them closer together. These expeditions culminated in our first date, with a Geocaching trip to Port Aransas for Sand Fest. Walking along the beach we first expressed how the felt about each other. Just a few days shy of two years later walking along the same beach is where I proposed.

After telling both of our parents the first question was do you have a date set? Nope, we don't have a date or a venue set, but we are aiming for this fall or next spring. Check back here for details later.