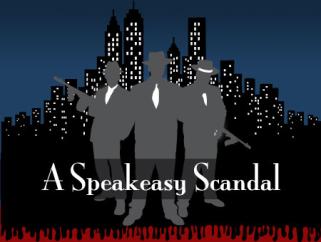 The first Digital Initiatives Murder Mystery Event was May 1, 2009, at Café Capri and was a great success for all who attended. We went back in time to the Roaring Twenties and the age of jazz. Everyone portrayed a character and tried to piece together the mystery by combing the scene and questioning other suspects for clues.
Check out photos from the evening
The Setting:
Ed Malone's Coca-Cola Bottling Factory, where he operates a speakeasy in the back. Flappers are flaunting their disdain for the notions of decent behavior by wearing makeup, drinking hard liquor, smoking tobacco and participating in brash, risqué behavior. Prohibition laws have given rise to organized crime as well as back alley speakeasies.
The Crime
The clock passed midnight and everyone was dancing the night away when then the familiar rapid rattling of what sounded like a machine gun came howling from the cellar. When the commotion died down, Doris Plunkett, the manager of "Plunkett's" (the secret name of the speakeasy), checked the cellar where the bootleg liquor was stored. What she found was the dead body of Ed Malone, Chicago's most ruthless gangster!