by artjynx
Ok people. It's getting down to the wire here….to day is the 3rd. of. February. Meaning less (!) than 2 months away from our wedding day. I haven't yet been able to figure out how many people can blog every day about the current state of their weddings. I'm trying to figure out if it's that I'm too busy with full-time job and freelance and wedding to-do lists or that I simply have poor time management skills. Anyhoo, the point of this particular post is regarding the doors for our wedding pic backgrounds…that we painted last Thanksgiving. I told you I was busy! Scott managed a christmas post before I could get to my door post.
Again…I'll try to stay on subject here. When we first got engaged and my brain was thinking we had TONS of time to do all kinds of DIY projects (you can stop laughing at anytime now) I had the brilliant idea of having a really nice funky chic background for wedding pics and for anyone who wanted their pics taken at the wedding ..possibly for the photobooth inside. My MOH, Alexi, who is the downtown Bryan Horse Drawn Carriage lady reminded me of a stash of doors collected by a building owner in Downtown Bryan. Zane Anderson currently renovates old buildings and tries to leave the charm but saves as much of the original hardware as he can. Sadly, many of these doors are in somewhat poor shape and their only hope is that some insane bride comes along to rescue them with a coat of paint and put them in her wedding. "Score!" Zane sold me about 7 of these doors for relatively little money. We stored them in Phil's (BM) Garage till we found time to deal with them. We hired a guy to sand them down for us and clean them up a little before painting.
After Thanksgiving, we set to work the rest of the weekend painting and re-aging the doors: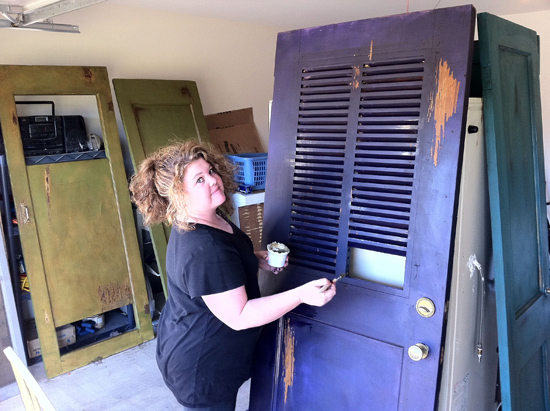 Door Gallery:
I found a great tutorial on aging furniture at Design Sponge. The colors are bright and gorgeous…no light pastels at this wedding. I think with the photographer we hired there will be some beautiful bright pics with these doors as a background. I managed to find an old bench too off of craigslist that should be a nice contrast. My bridesmaid, Molly, and I spent and entire evening sewing paper garland…I learned oodles about my sewing machine and I'm excited about it. There will be lots of colored paper garland over the doors and photobooth. We're going for a casual fun atmosphere. I encourage people to wear bright colors and not expect a huge amount of formality after the ceremony. ;) I will add pics of the garland as soon as I get home.
Coming soon….the uber-bouquet making party of '11. It's gonna be crazy.