by artjynx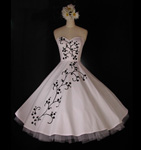 I now have something tangible regarding the dress and I'm very excited. I've decided to document my experience with Whirling Turban Dressmakers, as so far it's been a pleasant one. This is also to calm the fears of those who think what I'm doing is a little crazy. Whirling Turban is located in Indonesia and owned by a former Hollywood costumer who employs some very talented ladies who can make amazing things. You can read their history here. How did I find them? Scott knew I would not be interested in adhering to most traditions when it came to our wedding but I felt a little weird or guilty about it at first (I live in the most homogenous city in Texas where unique is well, unique). He came across a website called Offbeat Bride which totally made me feel all betters and inspired me to be as fun and creative as possible without worrying about naysayers or overly traditional people. It's our wedding and we should have a wedding that represents us.
Whirling Turban is a sponsor on that site where I quickly became enamored of the retro style dresses that were fun and not at all the fluffy white overkill gowns that saturate the wedding industry. No offense to women who love these, they just aren't me, and I was dreading the process of going to a boutique type place and trying gown after gown on and not being happy about it. I never wear white, why should one of the most important days of my life force me to dress up like someone else's idea of how I should be? (I took it very personally, but shouldn't I?)

It all started with an email. Which being a web designer, I loves me some email communication. It's unobtrusive and you can document everything. These dressmakers feel the same way. I got a quick response the next day (due to time differences which takes a little getting used to but not long) explaining the whole process and what I needed to do to get started. The word "corset" was introduced and I began the process of buying the undergarments…including a corset. Scott helped me with measurements (a true test of a man's love ;) ).
All payment with Whirling Turban goes through Google checkout (again internet love) and she does have people in the states who work for her regarding this as well for those who haven't grasped the world of google checkout. I did get to speak to Katherine via Google voice before ever putting a down payment towards my dress. It was agreed that I would have her design a custom dress for me in a non traditional fabric for wedding. She has several styles of bodices and skirts that can be combined to your perfect style. They do create gorgeous dresses in white, but I preferred the bright colors they offer in a simliar style. They create their own fabric that be found no where else and it it simply beautiful to the touch. What's even better is that Katherine loved the idea of me adding my own personal touch to the dress in a ribbon applique. She's created other designs, but me being me….was open to me drawing something specific.
I'm not quite sure when I decided on peacock feathers, but the idea of using them in my centerpieces so they could be created way ahead of time appealed to me, so why not an abstract design of them on the dress too? Here's where the video comes in. After a few weeks of waiting, a smallish but weighty package arrived….
I thought it would be fun to document my reaction for the WT ladies. Then it dawned on me to just document the whole process. The video was an impromptu decision with the iphone. I'll go into more detail about the contents of the box.
The corset: I purchased the corset elsewhere, but me being new to corset buying the corset was actually too big and the WT ladies agreed to fix the corset for me while creating the test dress.
The test dress: No it's not really that color. it's only a test, but I think the color allows them to see better what needs to be fixed on the dress. I need to try on the dress and take pictures of me in it so they know where to make alterations.
The tissue paper: it's actually a full size tracing od the dress pattern for me to draw my actual design for the dress (see below for my start for initial inspiration.) My first drawings it turns out wouldn't work well as they gave me specific instructions on how my design should work while giving me creative license.
A sample of the applique on the actual fabric: I forgot to put in the step where I went to find embroidery floss to find a contrast for the ribbon on the dress. It turns out black was the best option. We won't use too much but it was the best choice.
I started doing internet searches on peacocks and abstract solutions and created an idea board: