by Scott
Tina has always been an very enthusiastic dog mom. Our two puppies, Mia and Maisy, have always lived a very pampered life wanting for nothing. A few weeks ago we were planning a trip out of town where it would have been very inconvenient for the puppies to travel with us. Normally the puppies would have stayed with a friend for the time but this time that wasn't an option.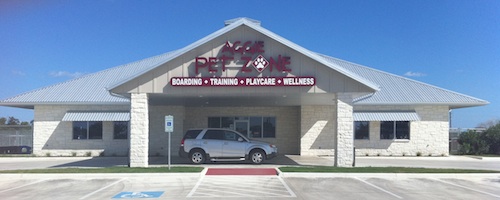 Searching for another option we came across Aggie Pet Zone; a new facility out on Rock Prairie Road on the other side of Wellborn. They offer a wide range of services from grooming, doggy day care, training classes, and pet boarding. One of the main selling points are their private doggie suites. These private suites consist of a small room (think closet with windows), small raised bed, tile floor, and their own flat panel television. They promise to take girls out 6 times a day, and if you wish they will let your puppies socialize with other dogs staying there.
When we dropped Mia and Maisy off Tina was noticeably apprehensive. The staff did a great job of calming her nerves about boarding the puppies. They showed us around and we saw the rooms – wow they are nice! They have several dog runs along the outside where the puppies would play when they were outside.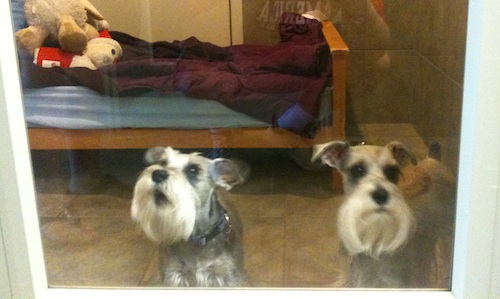 Our final review of the experience is that Aggie Pet Zone is a bit expensive (at least for the private boarding suite!) but you won't have to worry about how you puppies are doing while you're away. The one issue we may have encountered were fleas. More than a week after we got back from the trip we noticed fleas on the girls and they hadn't been anywhere else other than Aggie Pet Zone and the house. They probably picked up the fleas there, but we can't be sure. In either case the girls will get flea treatment right afterward if/when they are boarded again.