by artjynx
Warning: There are wedding spoiler alerts in this post. If you're the sort of person who likes to be surprised, this is not the post for you. See the previous post with the cute little puppies. Really, they love the attention.
Ok so the last couple of months have been packed with finding vendors, writing checks, and cutting fabric. Lots and lots of fabric and making decisions about that fabric and then starting over with different fabric…unfortunately, that's the creative process. I'm learning to trust it as long as I keep budget in mind. Making fabric flowers was a LOT harder than I thought. As this was my inspiration from Milkpod Studios on Etsy.
Their shop is closed until Aug 30…guessing because they're so busy after being featured in Bride's magazine. I found them a bit pricey but people have to make a living, but i need to save some money so I decided …YES I CAN! (famous last words, no?)
My first attempt was "fairly clunky" it's the only way I can describe it. Scott was supportive, but I wasn't totally feelin' it and when that happens and i'm not real confident I tend to be slow at it. I have 5 bouquets and centerpieces people. This is not for the faint of heart. I started to scour youtube on tutorials and other bride blogs etc. I came across Princess Lasertrons pretty flowers but wow that's a LOT of sewing…a talent I haven't quite grasped. At least her earlier work anyway. I needed something inbetween. Some of her later stuff is actually what I decided on. I'm thinking all that emroidery may have gotten to her as well as it seems to fading from her recent bouquets.
So anyway, Here's a look at my salvageable ones after i figured out how these crafty ladies were producing these. I'm quite partial to them: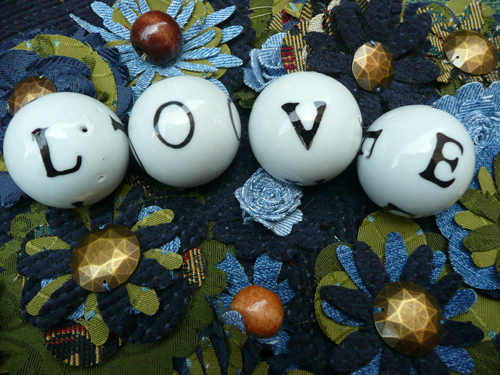 What's really cool is that I'm using our old jeans in some of the flowers so it's very personal :). I've found some unique buttons on Etsy that I'm waiting on right now so the flowers aren't all wood beads and plastic. I've discovered that buttons are a unique art in itself and can be quite pricey if you don't scour places like etsy for a nice deal.
Onto how these are made: A company called Sizzix is a creator of all things scrapbooking. They actually make the heavy duty versions of die cuts for schools…I always thought my teacher cut out that stuff, but no the secret's out. They're diecuts that go through a manual press type of machine. They've since created a cheaper version for the masses for soccer moms to make overly visual scrapbook pages with one photo in them. I never really got into scrapbooking as that stuff gets very expensive if you let it. There's a digital online thing anyway now called scrapblog if you're interested. They can print books too. No more cutting! sorry, I veered off…It turns out Sizzix had a couple of manual machines that with the right die could cut through fabric. About 7 dies later, I've managed to get the above. It's sooooo much easier too. I just spend time cutting out shapes out of various fabric…make little stacks of each kind then assemble each flower as I go. Each one is different but from the same fabric colors. I'm quite excited about it, especially since I got all the pieces and dies about 40% off. My dress maker also said she would send me extra fabric to include in the flowers. *happy dance* I will post more pics once i get more done. I just hope I can make enough. I have about 40 so far.
The dress and the peacock feather post I think will have to come later. I just thought I'd tease everyone a little bit :). I have the fabric and color of the dress picked out but nothing really to discuss just yet. Did you catch that? I said "color"…I decided not to wear white as I never wear white anyway so it would make me feel self-concious and not me. I should feel comfortable and pretty so color will be quite prevalent throughout the wedding methinks. As Martha would say…"it's a good thing".