by Scott
A while back Tina told me that she'd never been to an Aggie football game! I couldn't believe that someone who had graduated from this university had never seen a game in Kyle Field. I thought it was some sort of requirement for graduation or something? If it isn't, it should be. We had to fix this, so we got some tickets to the A&M vs OU game and invited Tina's parents up for the game.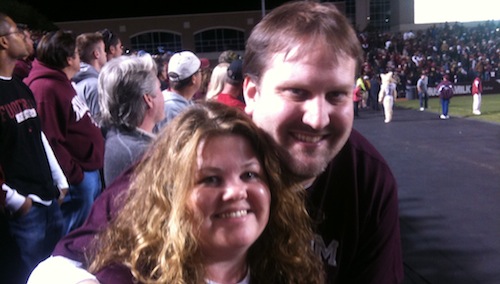 Tina was really excited and looking forward to going to the game. She definitely did not feel that Scott was dragging her out to a football game. If you believe any of that, then you don't know Tina very well! She's not into sports, well, actually neither am I. But I do like to watch the Aggies win every now and then. I had a great time, and afterward Tina told me that she thought it was fun. I don't know if she's just telling me that, but she did seem to enjoy her self during the game. At least now she can say she's been to a game and had a taste of what a Yell Leader is, along with all the traditions surrounding A&M Football. Perhaps in a few years we'll go to another game, but I don't think season tickets are in our future.
Since the Sooner's were ranked 8th going into the game with 7 wins out of 8 games this season I was afraid the game was going to be a slow motion slaughter. In fact it was a great game! The Aggies got an early lead and kept it for the entire game. Great game Aggies!