by Scott
For those of you coming into town this weekend for our wedding, welcome to Aggieland. Whether you've travel from another state or live down the street we are very excited that you are here to help us celebrate our marriage, it means a lot to Tina and I. This post is just a recap of the important information about the wedding this weekend. The number one question that Tina and I have been asked for the past week is whether we are excited, and they answer is usually "yes… but we're very busy." We hope that you have a great time while in town and to help with that we've put together a list of our favorite places around Bryan / College Station. Check them out if you have time.
Ceremony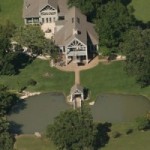 The ceremony will begin at 6:45pm sharp. Please arrive 15 to 20 minutes early to allow time for seating and parking. We expect the ceremony to last 30 minutes with a reception immediately following. The ceremony site is out doors with an on-site alternative in case of inclement weather. However the weather forecast at this time looks good at a nice 77 degrees. Also, please remember we are requesting no gifts, as your presence at our wedding is all we need.
The dress style for the ceremony is "Dressy Casual". For men this means: Trousers with a polo or button down shirt and a sports coat if you prefer with casual driving loafers or boots. For women this means: Dress, a dressy pants look, skirt with a sweater, or blouse with nice shoes or boots.
Directions
The ceremony is a few minutes outside of town at the Greenbranch. Below is the address along with driving directions, make sure you double check your route if you are using a GPS navigation device because they are easily confused by the area.
The Greenbranch
9471 Steep Hollow Road
Bryan, Texas 77808
(979) 774-0825
From Bryan/College Station exit highway 6 at Briarcrest Dr and turn left away from town, you should pass a Cracker Barrel. Continue straight on the road, it will change names to FM 1179, for 2.4 miles. Take a slight right turn onto Steep Hollow Road. Travel for 2.3 miles and look for signs that mark the entrance to the Greenbranch.
Important note for Navigation System (GPS) users: The area has two streets named "Steep Hollow" which easily confuse navigation units. Make sure you use the full street name including "Road", then double check the directions above with those provided by your unit.